From Minh Toan and Mong Trinh (04/02/2016)
I am Minh Toan, and this is my wife, Mong Trinh. We both work at Toan Thang massage parlor. We feel indebted to the parlor, whose director is Mrs. Le Thi Dieu Qui (Mrs. Le), for helping us hold a grand yet cosy wedding. We as well as our family will never forget their support.
I commit myself to doing my best here, so as to contribute to building a thriving massage parlor. Toan Thang will always be our big and beloved family.
---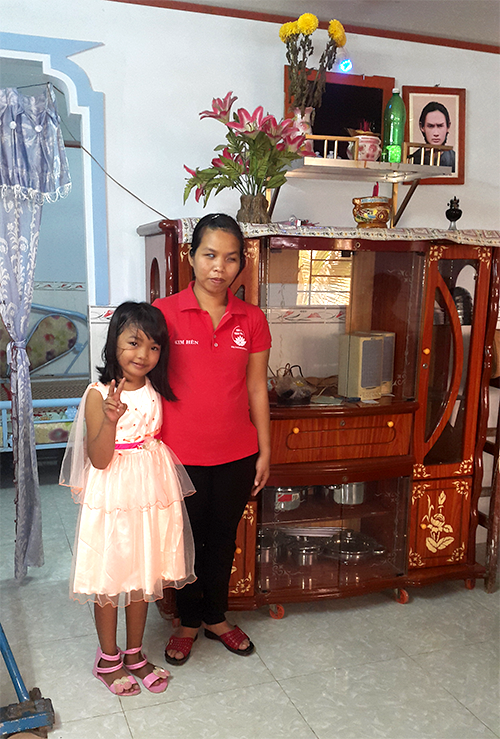 From Luong Kim Hen (Written on her house-warming party on August 19th 2014 - lunar calendar)
I divorced my husband in 2011, and since then had to raise my little daughter all by myself. Back at the time, I felt depressed, not wanting to do anything but stay at home and devote myself to religious cultivation. Then Mrs. Le Thi Dieu Qui (Mrs. Le) came and gave me encouragement, telling me to get a job, so that I could have money to raise my daughter. After all, she said, this job will be of use to the community, and through it you will create your 'merits'.
So I listened to her and began working at Toan Thang Massage parlor. From 2012 to 2015, I did manage to save more than 40 millions dong. After obtain another 10 millions as well as land title from my family, I could finally build a decent home for me and my daughter.
I want to express my sincere gratitude to Mrs. Le and well as my second big family at Toan Thang massage parlor, for their material and mental support as well as encouragement, which brought calm and strength to myself. Without it, I could not very well have this present home of my own. I truly feel blessed. I will dedicate 
---
From Tran Van Them (Written on his wedding anniversary, September 10th 2011)
I used to live with my grandfather when I was still a child. My parents had come to divorce, and each then found their other half. After working at Toan Thang parlor for some time, I met my dream girl, who was too disabled. We wanted to get married, but met with strong disapproval from her family. I was depressed, and confided in Mrs. Le Thi Dieu Qui (Mrs. Le). She and some patrons then paid a visit to my girl's home and eventually persuaded her family, which meant we were finally allowed to get married. But where would I get the money to hold my wedding? At that time, the parlor had just begun to operate, hence fraught with setbacks and difficulties. Nevertheless, Mrs. Le sought donation from our customers as well as patrons, and brought back a total amount of 8.750.000 dong for my wedding.
As I remember, back then she bought my wife a pair of 18K gold earrings, one pair of 18K rings, and one 24K ring. She also gave us a sum of 3.000.000 dong for our wedding. Two wedding dresses, a wedding tray (on which tea, biscuits, fruits, and wine were arranged) were also prepared. A 15-seat coach was hired. My colleagues at the parlor, clients, and patrons all came to the wedding. It was in all a well-prepared wedding, and a bit "lavish" I'd say!
I could not very well express all my feelings in words. All in all, I was touched and felt very happy for all this. I came to regard Mrs. Le as my second mother.
I hereby want to express my thanks to Mrs. Le, my friends at Toan Thang Massage parlor, our patrons (especially Mr. Hung, Mrs. Be, the Chinh family) for helping me hold a successful wedding.
I now live in happiness with my wife and our adorable son. I once again wish to extend my sincere gratitude to Mrs. Le, my colleagues at the parlor, our patrons, for all the love, the care, and for what they have dedicated to me. I wish you all health, may Toan Thang Massage parlor always be a thriving business! myself to working close with Mrs. Le as well as my sisters/brothers at the parlor, so as to build a thriving massage parlor, through which I believe help could be extended to those sharing same situation as mine. 
---
From Ha Van Thang 
When speaking of Toan Thang Massage parlor, our clients or people living in Long Xuyen City think of it merely as a business. For us, however, Toan Thang is not only a place where we earn a living, but it is also our family, a place which gathers the blind who share our hardships, so that we can care for and encourage each other, and above all to let it be known that we are only "disabled", not "useless".
In 2005, while I was at work, an accident took place, which dramatically changed my life. Previously a strong and healthy man, I all of a sudden became a blind. My life is over, I thought. Gone are my dreams and ambition. I was thrown into confusion and even at one time tried to kill myself, but fate would not allow me to die. 
It was fortunate that through my acquaintances, I met Mrs. Le Thi Dieu Qui (Mrs. Le), whom today we lovingly call by the name of "Mother Qui". 
Back then, I was like a three-year-old who was learning how to take his first steps, and Mrs. Le was the one who came by my side and walked me through the most challenging period of my life. She taught us massage therapy, instructed us on how to lead our life, and how to live with others. She cared for us when we were ill, she was happy when we were happy. She devoted all the best things to us without wanting anything in return. 
And in 2009, a miracle happened to me. There was a group of Canadian doctors who came to Vietnam to provide free eye surgery. I was the only one in the parlor who could be cured. Three days after that, I felt like I was bornt again. I could look at everything through my own eyes. 
At that time, my old dream and ambition came rushing in my mind. I was confronted with various paths for my future. All of a sudden, I recalled Mrs. Le's question, which she put to me prior to the operation:"If you are cured, will you come back and help me take care of our blind employees?". It was only a question, but I could see through it Mrs. Le's great care for us blind, and I replied:"I will come back to you, and will contribute my however small share to taking care of my brothers and sisters as well as the parlor."  
After all those years of staying at the parlor and delivering support to Mrs. Le, and thanks to our dedication to the job, our parlor is thriving day by day. I have no regret about choosing the parlor as my home, for choosing Mrs. Le as my second mother, and for choosing my blind co-workers as my family members. Fortune was once more kind to me, when I found my other half in the parlor, and once more, when we now welcome our healthy and adorable child.  
When speaking of Toan Thang, we could never forget the tremendous support by Mr. Truong Van Hung. He was a friend, a brother, and a father to us whom we could fall back on for mental and material support.
Being a Vietnamese expat with thousands of work to do, Mr. Truong, however always kept an eye on the business situation of the parlor. He delivered financial support and made up for the losses when we were at the most difficult start. To this day, he and Mrs. Le are always present by our side for the big dates, such as: major holidays, weddings, etc. For us, he and Mrs. Le are living Boddhisattvas who come to this world to help those who lead a misfortuned life such as ours.
At the present, although we have found a stable job and a long-term place to work, but we and Mrs. Le still have an abiding concern over how we could, when old age comes and we are no longer able to work, find a however humble place to shelter ourselves. There is this saying of: "The spirit is willing but the flesh is weak.". Mrs. Le and Mr. Truong already have that willing spirit, so we look forward to that the authorities, our patrons will join in with Mr. Truong and Mrs. Le to help realize this dream of ours.